David Ezell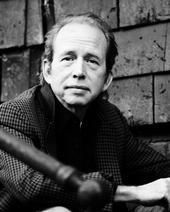 Upcoming Shows
Bio
The first thing to know about singer- songwriter David Ezell is that he's a man of immense talent, respected by peers in the business and cherished by the legion of fans and friends he's collected at home and on the road for the last three decades.

A soulful, weathered voice. Deceptively sophisticated guitar playing. Refined songs. Ezell's talent is the easy part. What's less easy to grapple with, but also essential, is the mind that produces such music and the life that has resulted from it.

His friends describe the man and his art with words like "sensitive," "contemplative" and even "meticulous." Carry a conversation with Ezell and those adjectives quickly make sense; he's clearly one who does a lot of thinking. About spirituality. About paying bills. About love. And about the thing that binds it all: music.

But, mainly, it is the music itself that Ezell mulls over. "When I'm at home, I can't just play music in the background," he said by phone from his downtown Charleston apartment. "When I listen to music, I have to give it my full attention."

Pick a style of American popular music and Ezell has probably invested much study. And his deep appreciation for the music he thinks is important comes out in the eclectic mix of material he has played alongside his own songs in coffee houses, music venues and bars for the last three decades.

It's at his weekly gig "residency," he calls it at Bert's Bar on Sullivan's Island where Ezell says he can really stretch the boundaries of h is talent for blending sounds.

"I got onto kicks," he said. "For a while, I was into Burt Bacharach and Dionne Warwick. I went a year when I was doing a lot of country and honky-tonk. Right now, I'm reacquainting myself with old and more obscure Bob Dylan."

Last Spring, Ezell found a reel-to-reel tape of hymns he recorded about 20 years ago. He had the tapes re-mastered into a CD that he gave his mother for Mother's Day. He often works spiritual music into his live shows and can envision arranging a collection of hymns to record.

Ezell refers to himself as "a purveyor of songs, whether by friends or music heroes I've listened to on the radio." But it would be a mistake to sell Ezell's accomplishments as a songwriter.

Critically acclaimed singer-songwriter David Olney, whose songs have been cut by Emmylou Harris and, more recently, Johnny Cash, has been a fan of Ezell's songwriting since they met in the early 1970s. Olney lauds Ezell for placing a premium on musicianship without losing sight of strong lyrical content.

"Musically, he's got roots in sort of '60s soul music," Olney said. "(His words) have that element of being personal without being self-absorbed."

That, at age 50, Ezell has never released an album of his own material is a confounding issue to friends who revere his music while, he acknowledges, grounds for disregard by others. But, mostly, it's a lesson about the reality of how difficult life in the music business commonly is for even the most talented. In Ezell's case, like many others, it's also a story of timing, tough decisions and a thin line between high personal standards and self-doubt.

Ezell began playing music as a teenager in Spartanburg. Though he lived on the west side of town, he went to Spartanburg High School, a circumstance that left him feeling "caught in between" the Southern rock scene on the west side and the musical interests of his east side classmates. "I felt unsure of my place," he recalled.

In most towns the size of Spartanburg, such conflict over split music cultures would seem trivial. But Spartanburg in those days was an unusual place. On one side of town, Ezell's peers included Southern rockers Toy and Tommy Caldwell, with whom Ezell played before the brothers formed the Marshall Tucker Band. On the other was a trio of inventive musicians Champ Hood, David Ball and Walter Hyatt who went on to win loyal fans as Uncle Walt's Band and as solo artists.

Ezell admits he was among an intimidating group of young musicians. And, yet, for a time, he appeared to be the one on the fast track to success.

In 1972, Capricorn Records offered Ezell a recording contract. The Marshall Tucker Band became a top seller on Capricorn, but the label was interested in Ezell's acoustic folk sound first. But as he got closer to signing a deal, Ezell, 22 at the time, felt Capricorn was being too evasive about its plans for him. He declined Capricorn's offer.

"It was a puzzle to me," said Ezell, who maintains he has "no regrets" about the decision.

If the Capricorn deal was a puzzle, Ezell was putting things together as a solo performer. A stay in Charleston with a group of musical acquaintances connected him to a scene that would be a base of support for years to come and provided fresh perspective on his young career. Throughout the seventies, he honed his craft playing steady songs around the southeast.

The 1980s saw Ezell branching out to front a series of bands and drawing ideas from the new wave and punk rock sounds of the day. With bassist Jim Orr, whom he met playing in Hilton Head, and Spartanburg rock and roller Matthew Knights, Ezell formed the Rage of Europe. It was a band with three independent-minded songwriters - better for creative energy than stability by the band, which broke up in 1983.

In 1987, Ezell moved to Nashville to gain a foothold in the publishing business. One of the songwriters he made an impression on during his stint in Nashville was Bill Lloyd, who scored several hits on the country charts as part of Foster and Lloyd.

"I love his voice, and he's got a really good melodic pop sense, which I find pretty rare," said Lloyd.

Ezell called Lloyd about writing together, and the result of their collaboration was a song that ended up on a European release by Lloyd. Asked what made working with Ezell a success, Lloyd said, "I think his song construction. He's very professional. He's obviously listened to a lot of different kinds of music, and his skills on guitar are broad enough to always make the song go to interesting places."

Others in Nashville were struck by Ezell's music, as well. An artist development deal with Screen Gems Publishing was in the works. But just before the deal was signed, Ezell's representative at the company was fired and Ezell was out of luck, too. Such twists of fate have derailed many dreams in the music business.

But as Lloyd explained, "A career in music is a calculated risk. You have to look at the market place and figure out how to work it for yourself."

Ezell returned to South Carolina in the early 1990s, deciding to settle in Charleston, where he'd made friends and fans over the years.

It may sound odd, but for Ezell the calculus of playing music for a living means that energy writing and recording songs has had to become secondary. He knows this is difficult for others, even his friends, to grasp. "I can't know what's involved in being a great chef or a welder. I don't know what the behind the scenes stuff means for a banker or a teacher," he said. "But I know what it means in my world."

Ezell's world these days is one of constant planning, budgeting, travel and, simply put, hard work. He books and promotes most of his own shows. He must buy and maintain equipment, from guitar strings to sound speakers, to play in a variety of venues. If he takes a vacation, it's money lost. And, in truth, the financial margin doesn't provide the cushion for much time off.

All this makes time and money for recording a time consuming and expensive endeavor, by all accounts all but impossible without substantial backing. And, according to Ezell, it even makes it difficult to structure his songwriting efforts.

"People think songs just fall from the sky," he said. "Some do, but you've still got to be ready for it, to know when it hits and stop what you're doing and capture it. You have to have the equipment to get it on tape. You have to be in a position to live your art."

Meanwhile, Ezell has kept a humble stance about his music. Author Peter Cooper asked to profile him in Hub City Music Makers, a Hub City Writers Project book about such Spartanburg music characters as the Marshall Tucker Band, the members of Uncle Walt's Band and bluesman Pink Anderson, but Ezell declined. "It was a no-brainer to me," he said, pointing to his lack of recorded material and the popular success of those profiled in the book. "I think I did the right thing." (Ezell did perform to an enthusiastic reception at a concern held in Twichell Auditorium following the book's release. Marshall Chapman, George McCorkle, Champ Hood and Joe Bennett and the Sparkletones were among those on the bill.)

There's little doubt that questions raised by the elusive balancing act of Livelihood and art play in Ezell's mind, but they aren't fodder for bitterness or self-pity.

"Nobody put a gun to my head and made me do this," he said. "I do it because I have to. Evidently, something's connected over the years or I wouldn't still be doing it." Still, he said he "hopes very much" to put out his own album. He can hear a "folk rock" blend of electric and acoustic instruments in his head.

Former bandmate Orr is one of the musicians Ezell has tapped for such a future project. Orr said it would take "a really nice double record" to capture Ezell's best songs. "I'd listen to it a lot," he said.

No doubt many others would, too.
Website
Social Media